About Us
Quicksand Flooring is innovating the timber sanding industry. Combining the highest quality equipment with world leading European products that vastly exceed Australian standards.
choose the best
We are Quicksand Flooring
We live and breathe timber flooring… and yes it's a beautiful smell.
With more than 25 years of industry experience we have seen every situation and can restore almost any timber.
Quicksand Flooring specializes in restoring timber floors to their original beauty. With years of experience and a dedicated team of professionals, we have honed our craft in timber floor sanding and deck restoration. Our passion lies in transforming old and worn-out timber surfaces into stunning masterpieces.
free estimate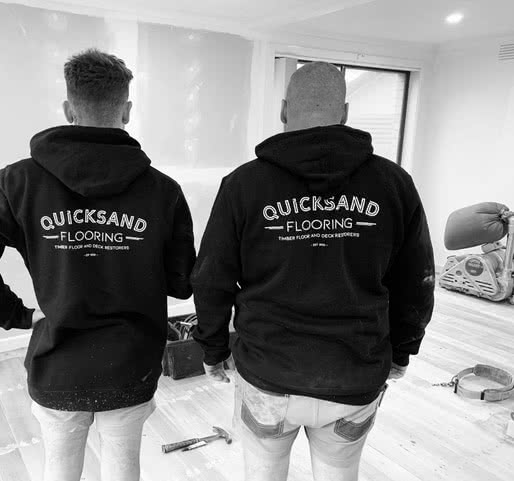 Experience, Expertise & Integrity
Comprehensive Expert Services
Our range of services includes timber floor sanding, polishing, staining, and deck restoration. Whether you have an indoor floor that needs a facelift or an outdoor deck that requires rejuvenation, Quicksand Flooring is your one-stop solution.
High Quality European Varnishes
We take pride in being one of the few Australian companies to use the highest quality European varnishes in our restoration projects. These top-tier products ensure a stunning and durable finish, enhancing the natural beauty of your timber floors while providing long-lasting protection.
Knowledge of Timber Potential
At Quicksand Flooring, we possess an in-depth understanding of the potential that lies within old timber. We carefully assess each project to determine the best approach, and our expertise allows us to bring out the hidden beauty in every piece of wood.
Exceptional Customer Service
We understand that each client's needs are unique, and we strive to provide personalized service to ensure satisfaction. Our team works closely with you throughout the entire process, from the initial consultation to the final inspection, ensuring that you are well-informed and happy with the results.
Family owned and operated
Clint & Madelein
With over 25 years industry experience Clinton Tracy knows Melbourne's timber floors as well as anyone. Having worked in the industry and seen the difference between your average floor sanding job and a truly professional finish Clint strives to deliver only the best across every job.
To achieve and maintain this Clint and his team are always trying new products and experimenting with multiple finishes on different timbers.  This dedication to detail includes travelling to Europe to keep up with the latest products and best practises coming out of world leading companies.
Behind the passion, Madelein manages the day to day of the business, making sure your job is booked and you are aware of everything that will happen on the day. Handling all the behind the scenes operations to make things run extra smooth.
Together this timber loving duo takes pride in bringing you the highest quality products with exceptional service.